Rave reviews from 22 of the magazine's staffers included comments such as "lovely," "clean and natural," and "perfect consistency." List Price: $5.29 for 8.5 ounces.
Highland Sugarworks Grade B Cooking Maple
Dark syrup with "excellent maple flavor," notes of whiskey and molasses, ideal for pies. List Price: $16.95 per pint
–mail order only.
Camp Maple Syrup Grade A Dark Amber
Tasters found it clean and mild with hints of wood and coffee. Light amber flavor. List Price: $12.49 for 12.5 ounces.
Fun Facts about Maple Syrup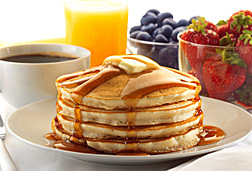 Sources: Vermont Maple Syrup Association, The George Mateljan Foundation for the World's Healthiest Foods
The grading of maple syrup can vary by state and country. Generally, there are four grades of pure maple syrup. All four are equal in density and clarity, but vary in color and flavor. The lightest in color, most delicate in flavor, and most expensive is Grade AA Light Amber, sometimes called Fancy. Grade A Medium is darker with a more pronounced flavor. Vermont Grade A Dark Amber and Vermont Grade B complete the lineup. Grade B is the darkest and most pronounced in flavor, which makes it the best choice for cooking.
Maple sugar making, known as "sugaring," is largely confined to the northeast corner of the U.S. and adjacent territory in Canada. Sap is collected from sugar, red, and black maple trees, and boiled to separate the water from it. Nothing is added to create pure maple syrup.
Maple syrup must be refrigerated after it is opened. It can't freeze, so it can also be stored in a freezer.
Maple syrup contains fewer calories and more minerals—primarily manganese and zinc, both essential for healthy hearts—than honey.
Sugaring was a Native American tradition; maple syrup was used as both food and medicine. It was the main sweeter in America during colonial times, but cheaper sugar eventually carried the day. However, maple syrup remains a good choice as a coffee or tea sweetener.